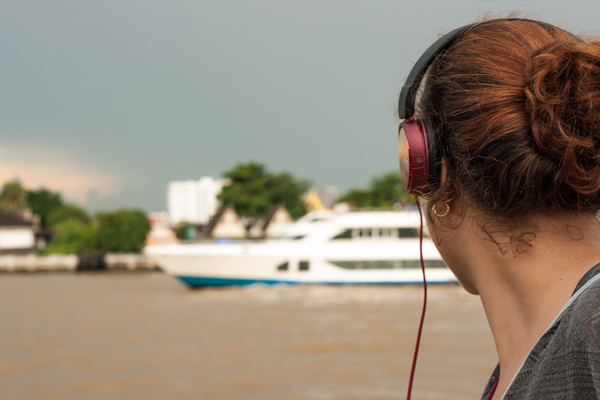 After Japan and its peaceful atmosphere, I found myself catapulted to Bangkok, to discover its different neighborhoods, its markets, its temples and other tourist places, its Chinatown, the river, its shopping centers, in short , from his constant chaos. Between two visits or to take a break in the noisy streets of Bangkok , I began to listen to a new audio book, The bridge of the river Kwai Pierre Boulle. Did you know that the famous movie was originally written by a French author in 1952?
The transition from one book to another has been a little rough, as the two universes are not exactly alike.
I chose it because it was happening in Thailand and it was a classic. If I am a great fan of classical literature, I realized that the format of the audiobook did not necessarily lend itself to all books and that some works were probably easier to understand and read on paper. Anyway, after a harder start, I again let myself be taken to the game with delight and I listened to the book very quickly. If I do not remember it as one of my favorite books, it was fun to discover the Thai jungle in literature and immerse myself in my trip to Burma.. Jean Rochefort is the voice of this audio book and oddly, it was a great failure: a monotonous voice, boring and falling asleep at each paragraph! For such an epic, it's a shame!
I was in Bangkok with a friend so we shared several hotel rooms in Bangkok . So it's really great to be able to continue to "read" his book without light and without disturbing his roommate (hostel or private room) in all circumstances. And what about my afternoon listening to my book, in my house in a tree in the green district of Bangkok , while the rain was falling …